Discover more from Dose of DeFi
Decentralized Finance
Over 3,000 subscribers
Dharma Pivots to UX, Smart Wallets and Fiat Ramps

DeFi UX gets serious
In a surprise move, DeFi lender Dharma announced it was launching its V2 on top of former competitor Compound. Dharma raised $7m in February to build the 0x of lending; it found traction early thanks to its high, fixed rates, but ultimately, users preferred Compound's fluctuating rates and the ability to withdraw or pay back a loan at any time.

Liquidity pools have also been behind the success of decentralized exchanges, Uniswap and Kyber, but Dharma's pivot also highlights the growing UX battle for the end consumer. Even in Dharma v1, UX was a high priority – not requiring Metamask or Web3 wallet, and it now believes that's where it can distinguish itself the most.

Dharma COO Brendan Forster said its three next priorities are:
Smart contract wallets

Fixed interest borrowing and saving

Fiat on- and off-ramps
There are a bunch of people working on optimizing yield and it will be another interoperable part of the stack (money legos…), but #1 and #3 will be the front lines of the UX wars.

Smart Wallets should have better UX. Seed phrases and account recovery are the two most cited UX problems for new DeFi users. Smart Contract Wallets hope to solve both of these issues by securing an account with contract code as opposed to just a private key.

Gnosis Safe and Dapper are two popular 'smart wallets'. Their registration and account recovery processes are familiar to Web 2.0 users, but will draw cries of 'centralization' from purists. Still, seed phrase and account recovery need to be addressed by any consumer-facing solution. There are dashboards for interacting with different DeFi protocols, such as Zerion and InstaDApp, but they rely on a third-party wallet to hold the users' private keys.

Fiat is still king. Usability is important but so is distribution. New users will come from the fiat world and connections to local banks will be needed to scale to the masses. Coinbase solves this problem for itself. Wyre is attempting to solve this for everyone else, while Dharma's v2 promises to open up more fiat on- and off-ramps.

As projects coalesce around "interest is the killer app", creating a wallet that acts like a checking account will require something close to daily liquidity for fiat banking.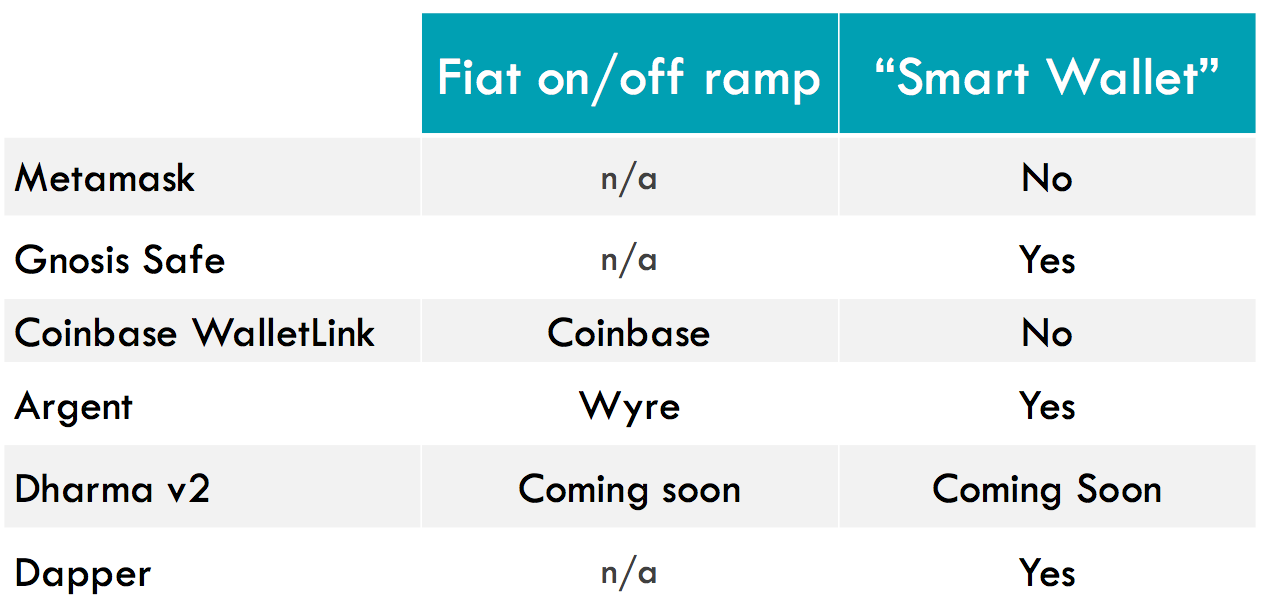 Argent is a well-backed wallet that is going all-in on DeFi. Their one-click Maker CDP opener is a better user experience and also reduces gas costs. Argent CEO, Itamar Lesuisse, explained their go-to market approach on the Wyre Talks podcast:
"Many people are waiting for mass adoption, [but] we need to go where the users are…We are not yet ready for emerging markets"
Chart of the Week: All Set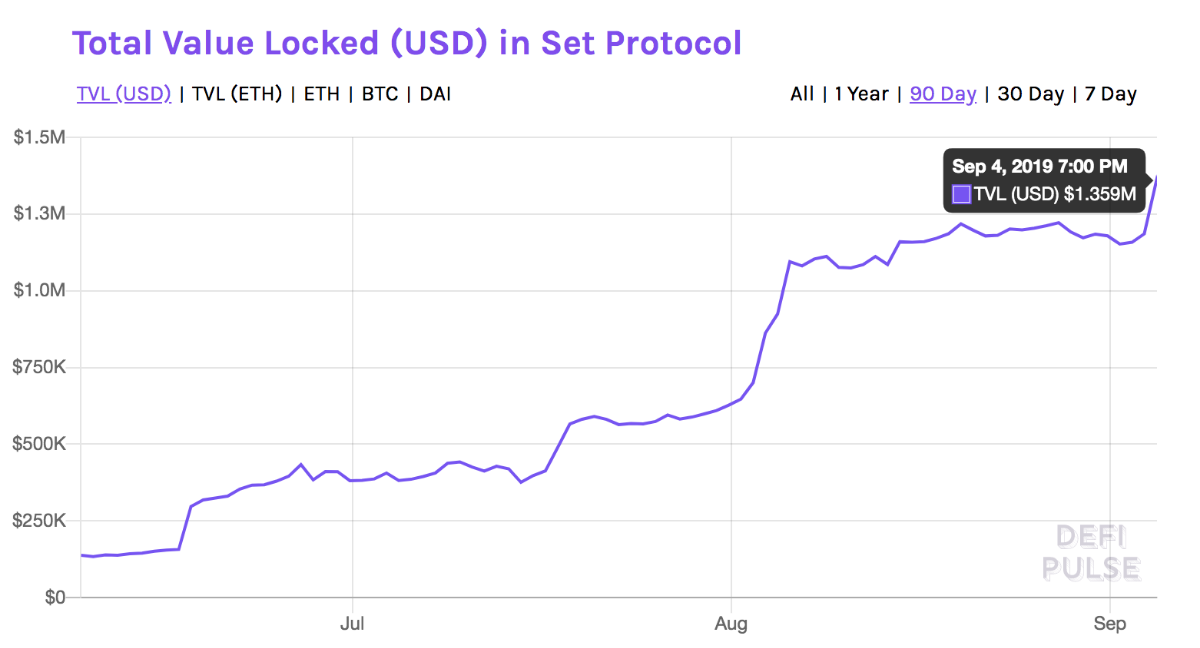 Automated asset manager, Set Protocol, has seen strong growth in the use of its platform, with $1.4m in total value locked and a 15% increase over last 24 hrs, according to DeFi Pulse. More stats and info in Set's August Community Update.
Tweet (thread) of the Week: Compound Scrutiny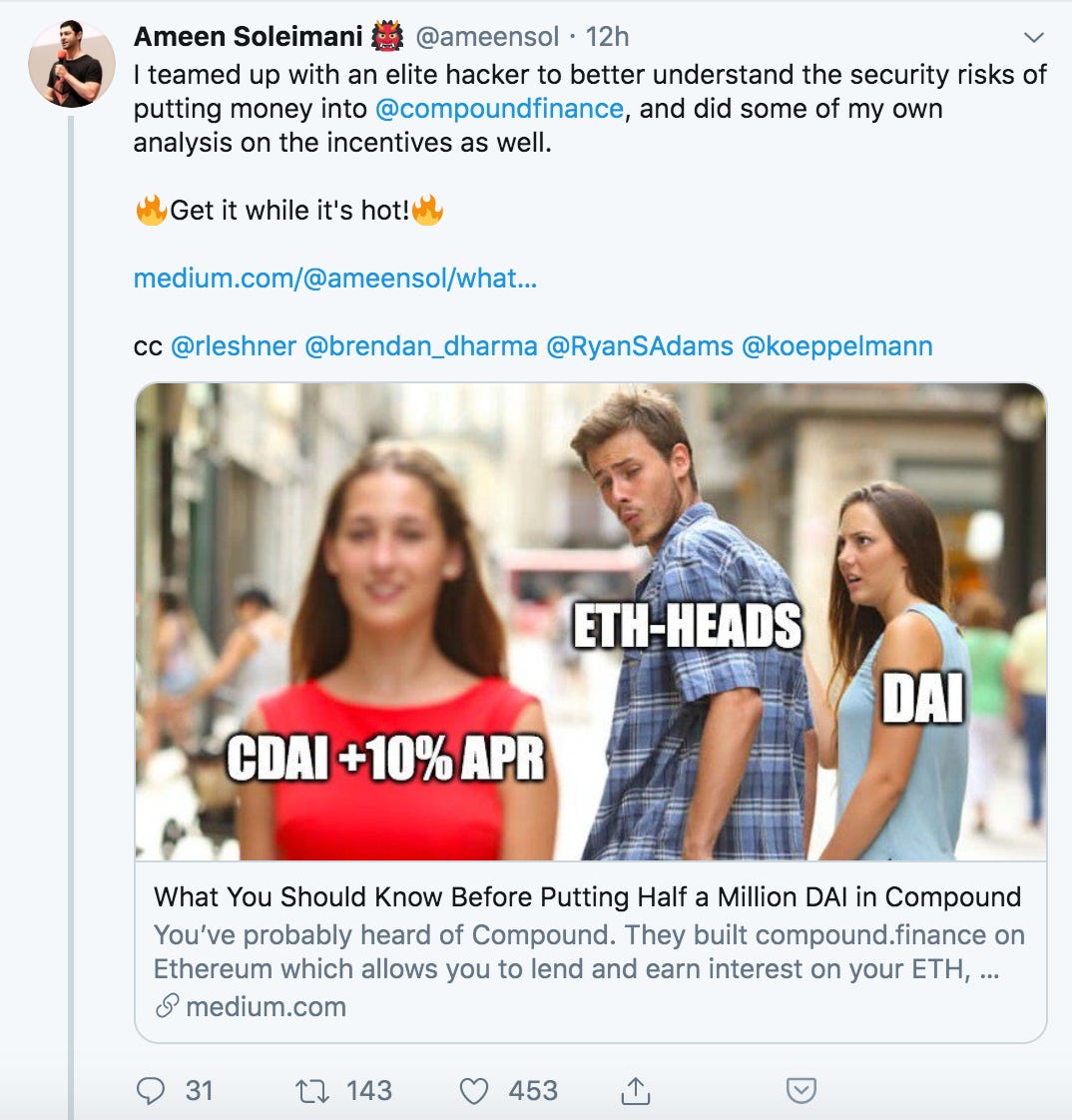 Ameen Soleimani pens a comprehensive analysis of security concerns on Compound, as he decides whether to deposit $400k in Dai from the Spankchain treasury. The post is worth reading in full - particularly the parts devoted to a possible bank run. The Twitter thread with Compound CEO Robert Leshner goes further and ponders on what is custodianship?
Listen of the Week: Vitalik on Ethereum & beyond
The way I view blockchains in a non-financial context, with traditional cryptography, you can prove to someone that you did something. But with a blockchain - not with cryptography - you can prove to someone that you did not do something.
Vitalik on the 80,000 hours podcast. The podcast isn't 80,000 hours but it's close (3 hrs +). After the 20 minute introduction by the host, Vitalik responds to Ethereum critics, comments on hot topics in crypto and then pontificates on the future of humanity, the RadicalXChange movement and effective altruism.
Odds and Ends
Thoughts and Prognostications
Long Read of the Week: What Makes a Tech Company?
Stratechery's Ben Thompson puts the recent WeWork and Peloton S-1 documents in the broader history of computing business models and tries to answer if both companies are, in fact, "tech companies". There's still a lot for crypto to learn from the history of computing.
Last Week's Top 5 Most Clicked Links