Discover more from Dose of DeFi
Decentralized Finance
Over 3,000 subscribers
Why no one forked Maker,

Where is Dai-cash?
Two days after the launch of Multi-Collateral Dai, there's $10m in circulation. While a smooth 48 hours means little for the long term viability of the project, Maker has - so far - largely avoided contentious debates that surround any intricate software upgrade.

There was not a Bitcoin-cash like hard fork of Dai for those in the community that want a stablecoin with only ETH as collateral, despite Vitalik himself supporting the idea. But like with the BTC/BCH hard fork in July 2017, Maker had to rely on independent wallets, exchanges and users to offer support for Multi-Collateral Dai, help migrate Sai to Dai while also maintaining support and liquidity for Single-collateral Dai.

The Maker Foundation did a good job of educating the community; its success over the last year also gave it credibility to push through an upgrade because its product is the lifeblood of the DeFi industry.

Why no opposition? Maker deserves credit but it is unusual that no factions rose to protest the upgrade. The Maker and DeFi ecosystem does not have the same incentive schemes as base-layer blockchains. In the Dai ecosystem, you have:
MKR holders

DApp developers

Dai users

Dai holders (liquidity providers)
For MKR holders, the upgrade to MCD is supposed to allow Dai to scale and the MKR price to go up. Dai liquidity providers have no qualms about offering trades in a new currency and there's likely some overlap between large holders of Dai and large holders of MKR.

DApp developers were the most vocal group in opposition. The most common complaint was from the engineering team who had to actually handle the process. But for others, it was an expansion outside of MakerDAO's core use case: a simple, incorruptible stablecoin.

Under this view, development and innovation will be led by other teams building on top of Dai, rather than MakerDAO growing its services. But there wasn't enough opposition or established businesses to push back. After all, Maker is more than 50% of DeFi (depending on the price of SNX).

Regular Dai users also did not oppose the upgrade. In the BTC/BCH debate, the majority of mining power and major figures in Bitcoin supported raising the block size limit. It was only because the rank-and-file Bitcoin community widely opposed the change did the smaller-sized block BTC chain ultimately win out.

Differences between BTC and ETH communities. The real difference in Ether and Bitcoin is the values of its users. It's easy to imagine a world where a Bitcoin-collateralized Dai failed to upgrade to Multi-Collateral Dai because of push back from users on the inferior forms of additional collateral.

The upgrade to MCD hints that DeFi applications and users may be less ideological in their product choices.
Chart of the Week: New DEX volume rankings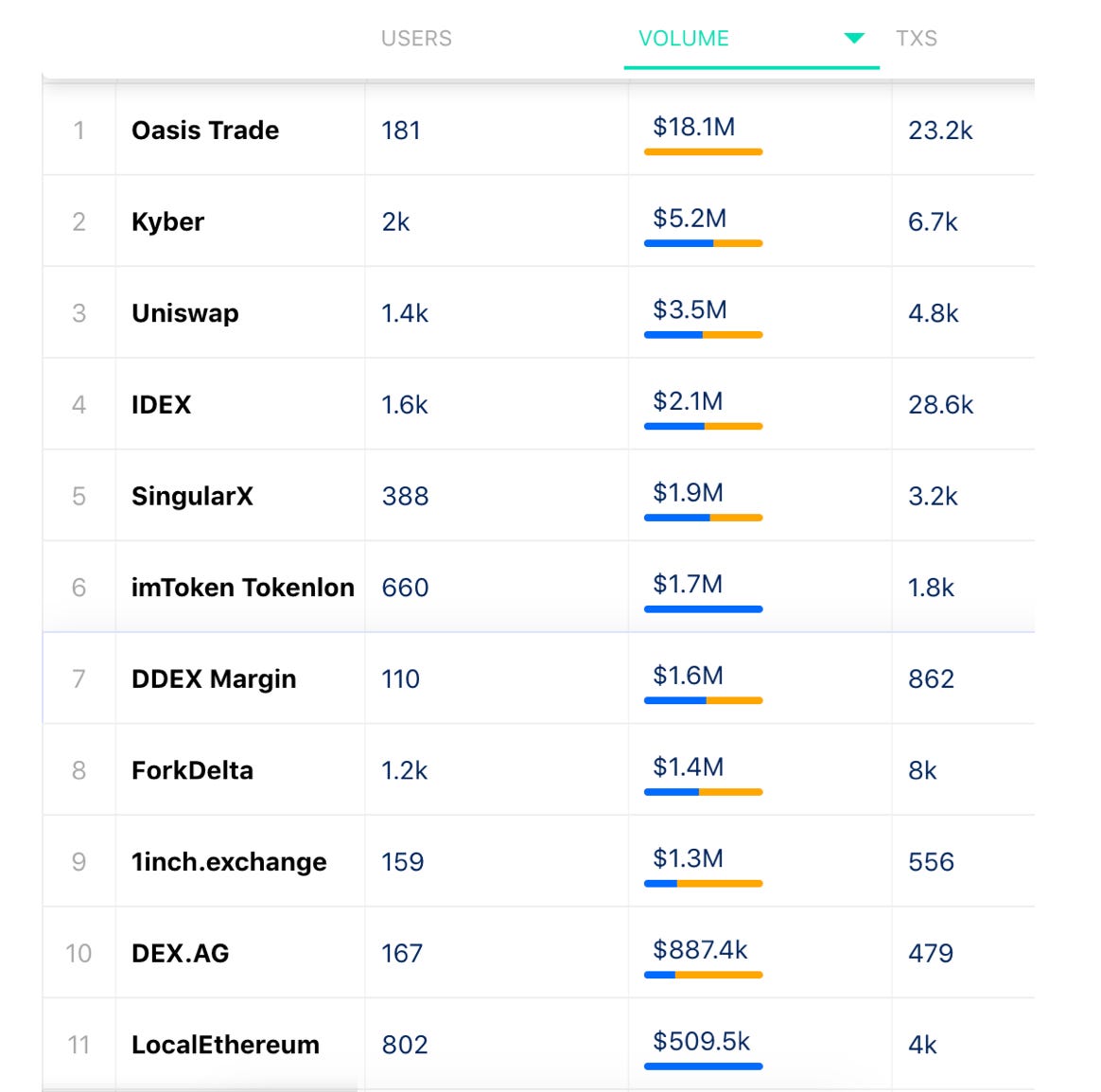 DappRadar is out with new rankings tracking volume across decentralized exchanges. DappRadar pulls its data directly from the blockchain but there are likely still some inconsistencies with how the data is compiled. Nevertheless, another tool to track the space's development.
Tweet of the Week: NFT activity increases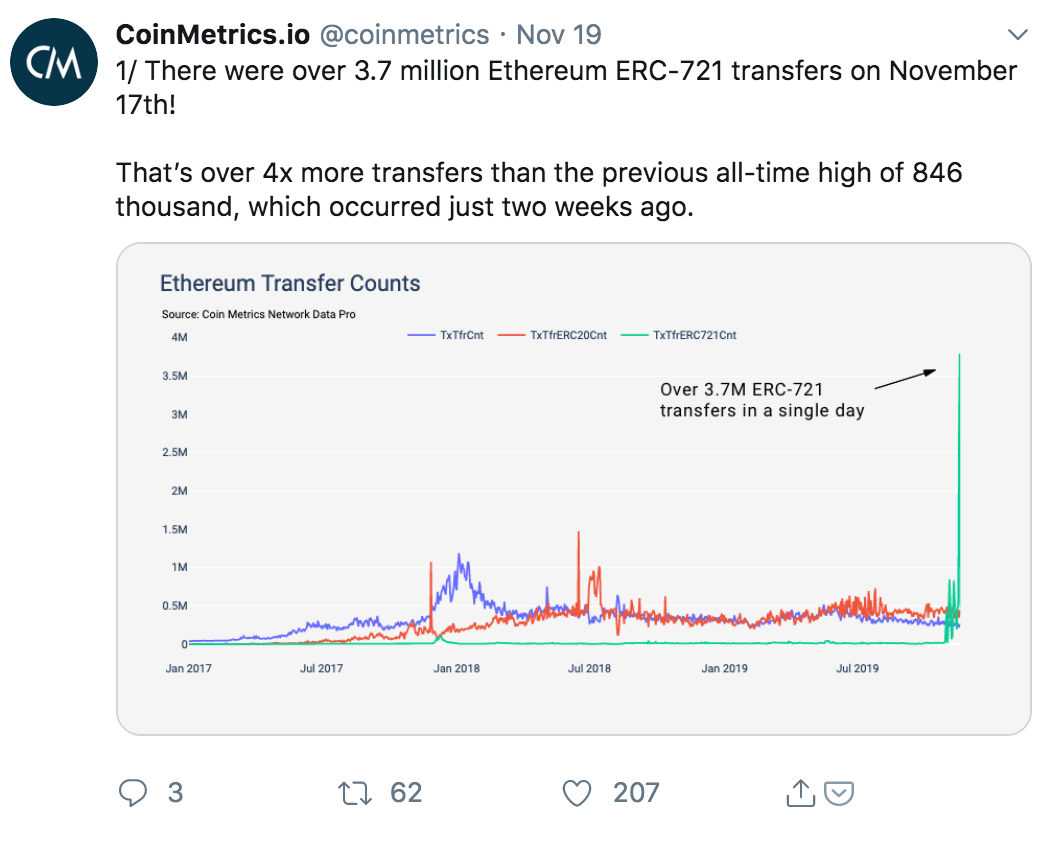 Coinmetrics highlights the sharp uptick in activity from ERC-721 transfers on Ethereum. ERC-721 tokens are also referred to as Non-Fungible Tokens or "NFTs". The rapid growth was attributed to trading card activity in the popular Gods Unchained game.
Long read of the week: The Binance story
"It had taken the company a scant eight months in 2017 and early 2018 to become the most active exchange in the world. At the peak of the crypto bubble, Binance said its 7.9 million users were trading some $10 billion daily.
Well after that bubble, it now has more than 10 million users, 600 employees, and made $500 million in profits in its first year alone."
Decrypt dives deep and provides a comprehensive telling of the Binance story. It's largely told from Binance's perspective and thus largely favorable. Still, Binance's leapfrogging of well-funded exchanges is an amazing story of right timing and impeccable execution.
Odds and Ends
Thoughts and Prognostications
Listen of the Week: China's new monetary policy tool
"It will be the first time a central bank, PBoC in this case, will have a direct impact on the daily economic activities and the monetary supply.
I think it will make it possible for PBoC to program monetary policy."
Dovey Wan, founding partner at Primitive Venutres, and Martin Chorzempa, research fellow at the Peterson Institute, sit down with Laura Shin on the Unchained Podcast to discuss China's plan for a central digital bank currency.